KB Article #6606
Starting March 29, 2021, we are starting a phased roll-out of DeliverNow to RepairLink dealers. All RepairLink dealers in coverage areas will be activated by May 1, 2021. All other OEC users will have access to use DeliveNow by the end of the second quarter.
Have questions or want to learn more?
Visit
https://oeconnection.com/solutions/delivernow
.
---
Before you can offer on-demand delivery orders within OEC, you must complete a simple registration process. Once this process is completed, you may begin fulfilling on-demand delivery requests in RepairLink or as needed.
Notes:
Enrollment can only be completed by the OEC Administrator
Once your enrollment has been submitted, it will take approximately one hour to complete the location update process. You will be unable to utilize DeliverNow during this update until the sync has finalized.
---
There is no fee to sign-up. There is no monthly maintenance fee. Billing is based on delivery.
---
To register:
From the DeliveryNow tab, click Get Started Now.
-or-
From the RepairLink tab, click Application Setup and then click Delivery.


Click Enroll next to the franchise you want to enroll in DeliverNow.



If your dealership supports multiple OEMs, you will need to complete the enrollment process separately for each OEM. Note: DeliverNow will be billed per delivery based on the applicable OEM invoice.

The Pricing and Disclaimer notification will display. Review the Disclaimer, and click Terms and Conditions to review the terms and conditions for DeliverNow.

If you agree to the Terms and Conditions check the Check to agree to terms and conditions box.
If you agree to the Disclaimer, check the Check to agree to Disclaimer box.
Click Continue.

Click in the DEALER LOCATION text box and type in your parts department's address. Verify and select your dealership address box from the provided drop-down.

Once the address has been selected, a map will display. Drag the map so the pin is placed where drivers should pick up parts from your dealership.



If needed, use the controls on the map to zoom in or out to ensure a precise location.


After verifying your address, a THANK YOU message will display at the bottom of the page.

Click Continue.
You will receive confirmation that your enrollment was submitted.

Click Continue to return to the DeliverNow Setup page.
Repeat steps 2-11 for any additional OEM you want to enroll in DeliverNow.
Note: If you try to book an on-demand delivery before the configuration is complete, you will receive the following message.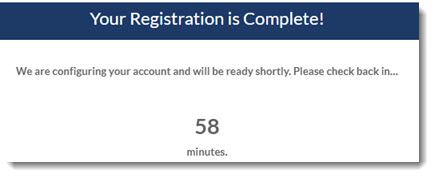 Please wait the designated time remaining before booking your first on-demand delivery.